Have a Large Project?
Desert Sun Patios has been installing Sunrooms, Screen Rooms, Pergolas and more for over 18 years. We live and love Calgary and Southern Alberta. Contact us today!
Why Choose Desert Sun Patios?
When you choose Desert Sun Patios, you are choosing deck additions that both look beautiful as part of your home and meet the extreme weather challenges the Calgary climate can throw at it. All our employees, from our front desk staff to on-site technicians, excel in providing excellent customer service, and aim to build the best additions to your home.

All Weather Work
Our builders at Desert Sun Patios are all experts in their fields and have lived in Calgary for many years. They know what to expect from an Alberta winter, from the strong winds that blow hard across the city, to the deep snow that comes with a clipper storm, and they are prepared to work through all conditions to ensure your sunroom installation is completed on time.

Local Knowledge
We have been operating in Calgary since 2001, and with so many years of experience behind us, our team brings a lot of local knowledge to your project. This includes giving pointers on building codes and regulations, helping you to protect your new investment against the elements and working with manufacturers to get you the best prices possible. All of this comes as part of the package when you order your installation through Desert Sun Patios.

Attention to Detail
One of the biggest areas that we pride ourselves in is the attention to detail we give to each project. This includes answering any question that you have about the installation, including you in every decision, from the types of glazing to the thickness of the insulation, and ensuring that both the inside and outside of the project look perfect before we leave you to enjoy your new Desert Sun Patios sunroom.

Ongoing Support
After your installation has been completed on time and to your satisfaction, our highly trained staff will still be on hand to answer any questions, work with other local contractors who may be doing internal work on your sunroom, and to come and fix problems that occur soon after the installation. We understand the trust you place in us to create a unique and personalized deck for you, and we want to be with you on each step of the journey and beyond.
Get a Free Estimate!
Over the last 18 years, Desert Sun Patios has been the GO-TO Patio cover builder in Central & Southern Alberta and we have hundreds of satisfied, happy and amazing clients. Desert Sun Patios installs patio covers and other additions throughout Central & Southern Alberta and all of our products have been approved by the many parks in Alberta and all of our products have the engineering to support the required permits for your specific jurisdiction.
More info.
You can pick from a full line up of high quality products to achieve what ever your needs may be, from a simple patio cover or screen room, to year round sunroom options, we're here for you.
Our friendly staff make sure they understand both you and your project. We come in person to meet you, measure your space, and do a proper professional estimate. The result: a living space you can enjoy for years to come!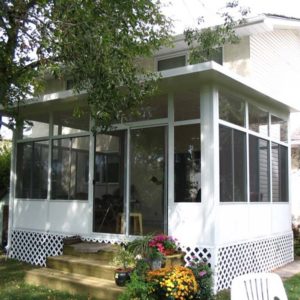 Thank-you Dustin for coming out so many times and being so patient with me and answering my million questions and most of all, willing to make things right. Bob thank-you for taking the time to answer my questions over the phone. Also thank-you Don for installing my flat pan patio cover. You did a beautiful job, you know you stuff and I appreciate it. Last but not least, thank-you Jeff for doing all the little touch-ups. Your a great young man. Desert Sun you Rock!!!!!
Nancy Hauser
Desert Sun Patios Customer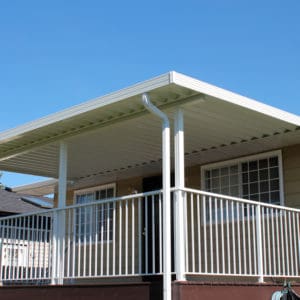 Staff were very professional and knowledgeable. I live in Red Deer and they came out to stop by to give us a measure & estimate no problem. Over all experience was great, friendly, and timely! Very pleased with our final product, we are very excited to now enjoy it.
Thanks Desert Sun Patios!
Sincerely one satisfied client!
Shayla Lynne
Desert Sun Patios Customer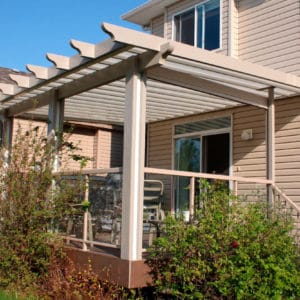 Was very impressed how the patio cover turned out, it really finishes off the sundeck. Dustin was very customer oriented, which you don't see a lot anymore from companies, during the process from when I went into showroom to 2 1/2 months later when finished. Anytime I had questions always recieved a return within a day or two if unable to reach the person I wanted to talk to.
Parmelee
Desert Sun Patios Customer